AGGREGATE IMPACT TEST APPARATUS.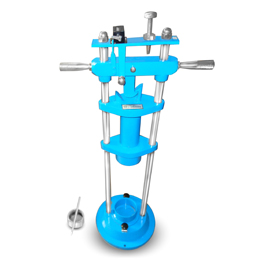 AGGREGATE IMPACT TEST APPARATUS.
As Per IS 9377 - 1979 & IS 2386 (Part IV) - 1963.

Instrument is to determine the Impact Value of Coarse Aggregate.
AGGREGATE IMPACT TEST APPARATUS WITH BLOW COUNTER
Order Code:

AIC-AIV-BL380

Add To Enquiry Box
Consist of a base weighing between 22 - 30 kg. With a lower surface of not less than 30cm and support columns to form a rigid frame work around the quick release trigger mechanism to ensure an effective free fall of the hammer during test. The free fall can be adjusted through 380 +/- 5mm. The hammer is provided with a locking arrangement.

A Metal Tup (Hammer) weighing 13.5 to 14 kg. The lower end in cylindrical shape of 100 mm Dia x 5 cm Long with 2mm chamfer at the lower end and case hardened..

Complete with a Cylindrical Cup of 102mm Dia x 50mm Depth, One measure of 75mm Dia x 50mm Deep and a Tamping Bar (10 mm Dia x 230 mm Long) of circular cross section, rounded at one end. Complete with Automatic Blow Counter.