LOS ANGELES ABRASION TESTING MACHINE.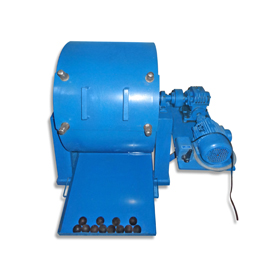 LOS ANGELES ABRASION TESTING MACHINE.
As Per IS 10070 - 1982 & IS 2386 (PART IV) - 1963.

Used to determine the resistance to wear of small size of coarse aggregates and crushed rock.



LOS ANGELES ABRASION TESTING MACHINE.
Order Code:

AIC-LAT-700

Add To Enquiry Box
The machine consist of a hollow cylinder of Steel, closed at both ends, having an inside Diameter of 700mm and inside length of 500mm. The opening shall be closed dust tight with a removable bolted in place. A detachable shelf, which extends through the drum catches the abrasive charge and does not allow it to fall on the cover. The drum is rotated at a speed of 30 to 33rpm by an electric motor through a heavy-duty reduction gear. It is fitted with counter and push button starter. A tray for collection of the material and set of 12Nos. Hardened steel balls of 48mm Diameter and each weigh between 390-445gm will be supplied with the machine. Fitted with 1 Hp, 1440 RPM Motor, Suitable for operation on Three Phase, 440 Volts, 50 Hz.