CONCRETE TEST HAMMER - INDIGENOUS.
CONCRETE TEST HAMMER - INDIGENOUS.


The Concrete Test Hammer is used as a control and test instrument for measuring the quality and indicating strength of concrete in place. This quick & inexpensive test is not intended as a substitute for control testing of concrete cylinders.

The Concrete Test Hammer is valuable for use in the field for trouble shooting to determine when test cores are needed and when they should be drilled. The device is also used to determine the rate of increase in strength of concrete with time and may be used to determine when forms can be removed or loads applied.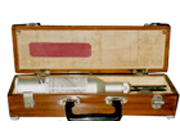 CONCRETE TEST HAMMER - INDIGENOUS.
Order Code:

AIC-CTH-IND.

Add To Enquiry Box


Lightweight, portable instrument operates on an impact rebound principle. To operate, the plunger is pressed against surface of the concrete applying a gradually increased pressure until the hammer impacts.

After the impact, the rebound number is read on the indicator scale. The rebound number has been calibrated to indicate concrete compressive strength, when referenced to a set of calibration curves, which are supplied.

The calibrated curves have been developed on the basis of actual comparison tests of the rebound number and compressive strength of thousands of concrete test specimens. The compressive strength of concrete can be determined to within approximately 15% to 20%.

Supplied with one rubbing stone, instructions and wooden / leather carrying case.