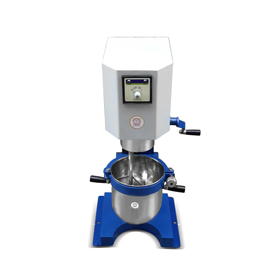 MORTAR MIXER.
As per IS 10890 - 1984; IS 1727 - 1967; IS 4031 (Part VII, VIII, XII & XIII) - 1988.

It is used for mixing cement pastes, mortars and pozzolanas.



MORTAR MIXER.
Order Code:

AIC-PMX-06L

Add To Enquiry Box
The mixer consists of an epicycle type Stainless Steel Paddle imparting both planetary and revolving motion, by means of gears. Mixers have two speeds of 140±5 RPM and 285±10 RPM with planetary motions of approximately 62±5 RPM and 125±10RPM respectively.

The stand of the mixer has an arrangement to raise or lower the bowl. Stainless Steel Bowl of about Six Ltr. capacity is fitted with handle. It shall be provided with a lid made of non-absorbing material and not attached by cement, masonry cement, cement pozzolana mixture or lime pozzolana mixture.

Fitted with 1/4 HP, 1440rpm Motor, suitable for operation on 230 Volts, Single Phase, 50Hz, A.C. Supply.