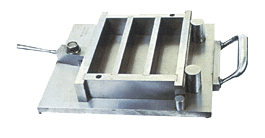 PRISM MOULDS
As Per IS 10078 - 1982 & IS 4031 (Part VIII) - 1988.

Useful for casting prism moulds for determining transverse and Compressive strength of plastic mortar.


PRISM MOULDS. 40 x 40 x 160 mm. MILD STEEL.
Order Code:

AIC-PRM-4416.

Add To Enquiry Box
Have Three Compartments of Size : 40mm x 40mm x 160mm. Made of Mild Steel.