COMPACTION FACTOR APPARATUS.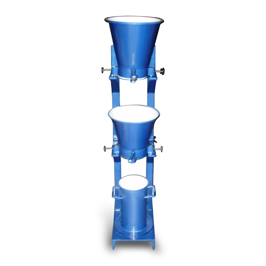 COMPACTION FACTOR APPARATUS.
As per IS 5515 - 1983; IS 1199 - 1959.

It is used to determine the workability of fresh concrete, provided the maximum size of the aggregate does not exceed than 38 mm. The test is useful for concrete mixes of very low workability, where true slump values are not reliable.
COMPACTION FACTOR APPARATUS
Order Code:

AIC-CFA-2CH1R

Add To Enquiry Box
Consist of 2 conical hoppers and a cylindrical receiver mounted on a rigid metal frame. The lower openings of the hoppers are fitted with hinged trap-doors for release. Complete with Tamping Rod of 0-60cm long x 16 mm Dia.