CONCRETE IMPERMEABILITY APPARATUS.
DIN STANDARD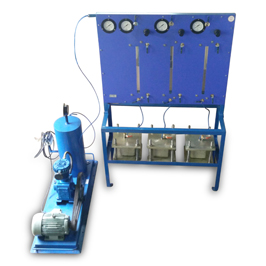 CONCRETE IMPERMEABILITY APPARATUS.
DIN STANDARD
As Per DIN 1048.

The impermeability of Concrete can be determined in the laboratory by applying water under a controlled pressure to the surface of 200 mm square concrete prisms and measuring the penetration of water in to the specimen.

Suitable to operate on 440 Volts, 3 Phase, 50Hz, AC supply.
CONCRETE IMPERMEABILITY APPARATUS - THREE GANG.
Order Code:

AIC-CPA-3-DIN.

Add To Enquiry Box
Comprises a set of 3 sealing clamps and gaskets, a pressure monitoring panel with 2000 Kpa test gauge and valves, 3 high capacity air/water assemblies which are used to supply water under pressure to the specimen.


Optional Accessories (If Required)
AIC-COMP-10.
Model Name:

AIR COMPRESSOR. 10kg/cm2

Add To Enquiry Box
Suitable to take pressure up to 10kg/cm2 fitted with Regulating Valves, Pressure Gauge and Safety Valve.