CONCRETE PENETROMETER - SPRING TYPE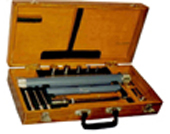 CONCRETE PENETROMETER - SPRING TYPE
As Per IS 8142-1976; ASTM C-403.

It is used for finding out the rate of hardening of mortar sieved from concrete mixers, by means of penetration needles of different cross-sectional areas.
CONCRETE PENETROMETER-SPRING TYPE
Order Code:

AIC-CPN-S60kg.

Add To Enquiry Box
The instrument consists of a barrel housing, a calibrated spring and a stem graduated from 0-60kg x 1kg. Six interchangeable penetration needles of areas 645, 323, 161, 65, 32 and 16mm2 are provided. Compete in a wooden carrying case.