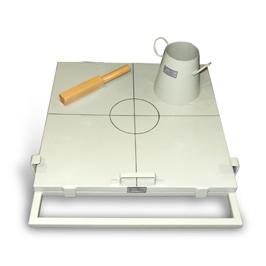 FLOW TABLE APPARATUS
As Per IS 9103-1999.

For determination of the flow of fresh mixed superplastisized concrete of high workability.

It Consists:
A conical mould having 130mm Top Dia x 200mm Base Dia and 200mm Height.

A flow table having mild steel top having plain area of 700x700mm. The center of the table is scribed with cross lines which run parallel of and out to the edges of the table and a circle of 200mm dia at the center of the table. This flow table is hinged with the base frame using externally mounted hinges. An upper stop is provided at each side of the table so that the lower front edge of the table can only be lifted 40mm.
FLOW TABLE APPARATUS
Order Code:

AIC-ADMX-FLT-MS70.

Add To Enquiry Box
Complete with a Wooden Tamping Bar having 40x40mm section of 200mm with a circular section to form a handle to the bar.