MOISTURE METER FOR WOOD.


For surveying buildings for dampness and for the rapid determination of the moisture content of wood / timber.

Used the 2 pins electrode to measure the conductive ability of the spices, then converter to the of % "moisture Content".

Measures moisture content over 9% to 30%.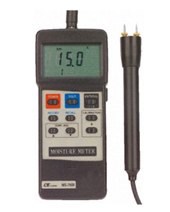 MOISTURE METER FOR WOOD.
Order Code:

AIC-MMW-L7000.

Add To Enquiry Box


Complete with Instruction Manuals, Moisture Probe and Carrying Case. Make : LUTRON; Model : MS-7000.