MARSHALL MOULDS COMPACTOR - AUTOMATIC. FOR 152 mm DIA MOULDS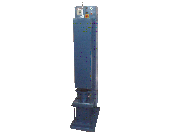 MARSHALL MOULDS COMPACTOR - AUTOMATIC. FOR 152 mm DIA MOULDS
As Per ASTM D 5581-06.

This equipment is to speed up the process to cylindrical specimens for Marshal Stability Testing Machine with ease and accuracy. The compactor has been designed to simulate hand compaction as described in ASTM D 1559. This machine compact the samples automatically and stops when desired preset numbers of blows have been completed. The compactor gives uniform and accurate marshal moulds for reliable testing.


MARSHALL MOULDS COMPACTOR - AUTOMATIC. FOR 152 mm DIA MOULDS.
Order Code:

AIC-MCA-152.

Add To Enquiry Box
It is a motor driven mechanical compactor useful to compact 152 mm Dia moulds. It is fitted with a compaction rammer of 10.2 Kg with a free fall of 457 mm. The rammer assembly is to be attached with a ratchet and pawl arrangement to lift it from the top of the test samples. When the rammer reaches the required height, the pawl releases the rammer, which falls freely on the test specimen. The release mechanism is connected by an arm moving up and down, which is connected to a reduction gear coupled to the motor through another arm. An automatic Electronic blow counter is used to set the desired number of blows. The Compactor is supplied complete with wooden pedestal. Suitable to work on 230 V, 50 Hz, Ac Single Phase.