FLOW TEST APPARATUS WITH SLUMP CONE FOR SELF COMPACTING CONCRETE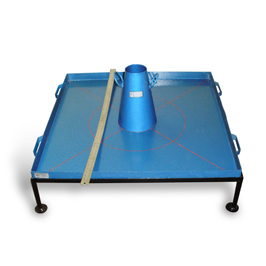 FLOW TEST APPARATUS WITH SLUMP CONE FOR SELF COMPACTING CONCRETE
Flow Cone to Measure Flow of Self Compacting Concrete with Table Having Top Size of 0.9 mtr x 0.9 mtr with Stand Flow Cone with atleast 1/2 ft stnad as per European Guide Lines for Self Compacting Concrete specification consists of 1 No. Slump Cone I.D. 200 mm at base, I.D. 100 mm at top and Height 300 mm with a table having Top Size 0.9 x 0.9 mtr with 1 cross line at centre and 2 circles of I.D. 200 mm and 500 mm inscribed on it to measure flow of SCC and 1 mtr. Standard S.S. Rule (Scale) with Calibration Certificate.

FLOW TEST APPARATUS WITH SLUMP CONE FOR SELF COMPACTING CONCRETE.
Order Code:

AIC-SCC-FLTS-MS90.

Add To Enquiry Box
Made of Mild Steel Duly powder coated.