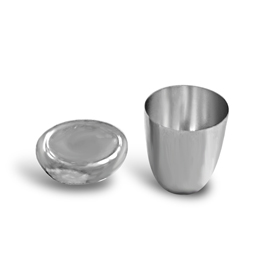 CRUCIBLE PLATINUM.
Crucibles in this series have nominal capacities ranging from 10 cc to 100 cc. All crucibles are exactly similar in shape and proportion with dimensions confirming simple ratios. These crucibles are designed with extra thick base, to withstand heavy wear. Unless specified, crucibles is always supply having plain rim and with lid. The purity of Platinum metal used for manufacture of these crucibles is 99.95% at least.

PLATINUM CRUCIBLE. SHAPE AZ/UA. 25ml. With Lid.
Order Code:

AIC-PCBL-AZUA25L.

Add To Enquiry Box
Tall Shape. Side wall thickness approx. 0.3mm and Bottom Thickness approx. 0.5mm.Complete with Lid. Rates per Gram.