BUNSEN BURNER - ELECTRIC.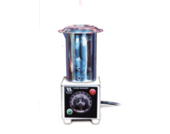 BUNSEN BURNER - ELECTRIC.
Construction : Made Of Stainless Steel. Glass wool Insulation.
Heating Elements : Nichrome Heating Elements rating 350W are within a conically shaped refractory crucible, which is enclosed in a S.S. casing with proper Insulation.
Temperature Range : Up to 800°C to 900°C.
Temp. Controlled By : Energy Regulator.
Standard Supply : Three core wire and three Pin Plug.
Operated On : 230 V, 50 Hz, Single Phase, AC Supply.

BUNSEN BURNER - ELECTRIC. ENERGY REGULATOR MODEL.
Order Code:

AIC-BB-ER350.

Add To Enquiry Box
Complete with Test Report and Instruction Manual.